Projects For Happiness 2019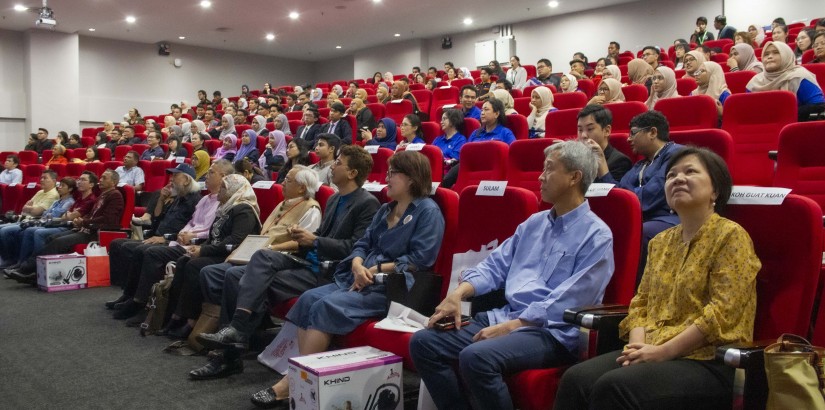 07 Dec 2019 – UCSI University, the collaboration partner for Khind Starfish Foundation's 'Projects For Happiness 2019' event, is all for contributing to the community in any way it can. The University has long since been championing the UN SDGs and, moreover, is at the forefront of peace and unity advocacy.
Held on December 7, 2019, the first part of the 'Projects For Happiness' event was the student exhibition which featured 24 teams from different universities, all showcasing their projects for the benefit of society.
| | |
| --- | --- |
| Date | Articles |
| 07 Dec 2019 | Projects For Happiness 2019 |
| 04 Dec 2019 | The Three As of Leadership |
| 27 Nov 2019 | A quick visit to Google Asia Pacific Headquarter   |
| 27 Nov 2019 | ELC answered many of my conundrums" – Andrew Harman, current student project lead of Breadbroad |
| 19 Oct 2019 | Bringing Hope Alive With 1973 Miles |
| 08 Oct 2019 | Harmony Moments At UCSI |
| 13 Jun 2019 | UCSI's scholarship up for grabs |
| 19 Mar 2019 | The Mindflu Project UCSI University Chosen As One Of The Best Three In Support of SDGs |
| 06 Oct 2018 | UCSI Alumnus: A Sustainable Business For A Sustainable Environment Is Not Easy, But Doable |
| 26 Jun 2018 | The Picha Project Trio Win US$50,000 In Chivas Venture Finals |
| 05 May 2018 | UCSI Students Recognised For Exemplary Achievements |
| 06 Apr 2018 | UCSI University alumni make the Forbes Top 30 Under 30 Asia 2018 list |
| 14 Mar 2017 | Premier Co-Op students walk away from internship with full scholarships |
| 05 Mar 2017 | Headstart for deserving students |
| 24 Feb 2017 | Funding the Future: UCSI awards RM13.7 million worth of scholarships to 607 students |
| 24 Feb 2017 | UCSI awards 607 students |
| 23 Feb 2017 | UCSI Awarded RM13.7 Million To 607 Students |
| 09 Oct 2016 | Scholarship bonanza |
| 20 Sep 2016 | 946 pelajar UCSI terima biasiswa |
| 03 Sep 2016 | UCSI Scholarship 'a light at the end of the tunnel' for chemical engineering student |
| 03 Sep 2016 | UCSI anugerah biasiswa RM18 juta kepada 946 pelajar |
| 21 Aug 2016 | Hands of help and hope |
| 05 Aug 2016 | Stateless Children Marginalized And Deprived Of Education |
| 18 Jul 2016 | UCSI's Hands of Hope sponsored 10 refugee children education |
| 22 Jun 2016 | UCSI's student leadership camp earns praise from Deputy Education Minister |
| 19 Jun 2016 | GLC urged To Support Newly Venture Company |
| 19 Jun 2016 | GLCs Urged To Support In Newly Venture Company |
| 19 Jun 2016 | Negara perlu lebih inovatif hadapi persaingan global |
| 18 Jun 2016 | UCSI scholars host exclusive Leadership Lecture Series |
| 18 Jun 2016 | Usahawan muda perlu dibantu |
| 12 Jun 2016 | 107 gets scholarship |
| 12 Jun 2016 | Appreciating Opportunities To Learn |
| 23 Mar 2016 | MQA CEO Congratulates UCSI Standouts |
| 12 Mar 2016 | Valuable Package Assist Students To Continue Further Studies |
| 09 Mar 2016 | UCSI students learn leadership from Ola Bola director and crew |
| 27 Feb 2016 | Recognising high-achieving students |
| 31 Jan 2016 | Don: Success must be earned all the time |
| 22 Jan 2016 | Rise and Aspire with YB KJ |
| 16 Jan 2016 | 343 Free Courses Open For Application |
| 03 Jan 2016 | 3 Colleges Provides Scholarhips To Private School Students |
| 02 Jan 2016 | 3 College Scholarships Available For Application |
| 01 Jan 2016 | 3 Specialized Scholarship Only For Private School Students |
| 23 Nov 2015 | U-Schos Rise and Aspire with YB Khairy Jamaluddin, Malaysia's Youth and Sports Minister |
| 26 Sep 2015 | UCSI scholars present award to think tank, IDEAS, founder |
| 14 Sep 2015 | UCSI scholarship recipients dine with Deputy Education Minister |
| 26 Jul 2015 | UCSI scholars strengthen leadership values among school students |
| 09 May 2015 | UCSI scholars reveal Malaysia's Top 10 Young Leaders |
| 24 Feb 2015 | UCSI scholars meet AirAsia Berhad CEO and executive director |
| 06 Feb 2015 | UCSI scholars meet Chatime Malaysia CEO |
| 17 Jan 2015 | UCSI scholars bring "My One-Day Uni Life" to underprivileged children |
| 06 Jan 2015 | UCSI scholars meet Datuk Nicol David |
| 27 Dec 2014 | UCSI hosts award, scholarship presentation (New Sabah Times English) |
| 27 Dec 2014 | Empowering underprivileged children through music (New Sarawak Tribune) |
| 22 Dec 2014 | 600 Excellent Students Get Scholarship at the UCSI Annual Award Presentation Ceremony (Sin Chew Daily) |
| 16 Dec 2014 | UCSI hosts Award & Scholarship Presentation Ceremony 2014 |
| 14 Dec 2014 | UCSI scholars empower underprivileged kids through music |
| 23 Oct 2014 | Over RM18mil in scholarships and financial assistance await deserving students in 2015 |
| 31 May 2014 | UCSI scholars organise Leadership Lecture, Datuk Lee Chong Wei voted as most inspiring young personality |
| 21 Apr 2014 | UCSI scholars host exclusive Youth Leadership Lecture Series (Sin Chew Daily) |
| 01 Apr 2014 | Transforming Lives Through 'Trust' |
| 29 Mar 2014 | UCSI scholars host exclusive Leadership Lecture Series |
| 20 Dec 2013 | UCSI hosts Award & Scholarship Presentation Ceremony |
| 03 Oct 2013 | UCSI scholars meet business extraordinaire Phng Li Kheng |
| 21 Aug 2013 | Rocket to the Moon – A community project by U-SchoS' (UCSI Scholars Club) |
| 10 Jul 2013 | UCSI students bake for charity |
| 25 Jan 2013 | U-SchoS organises fun yet effective professional development talk |
| 18 Jan 2013 | The UCSI Scholars' Club (U-SchoS) Leadership Lecture Series kicks off with a bang |
| 07 Dec 2012 | 'Simply the Best' at UCSI University |
| 06 Oct 2012 | A Corporate Social Responsibility Project (CSR) by U-SchoS Lend Your Helping Hand – To Children In Need |
| 23 Mar 2012 | Scholarship for UCSI University A-Levels Students |
| 16 Dec 2011 | UCSI University Trust Pledges close to RM1 million towards Sin Chew Daily Education Fund |
| 09 Dec 2011 | A Time for Giving & Sharing |
| 12 Sep 2011 | UCSI University Gives Away RM 631,497 worth of Scholarships to The Star Education Fund |
| 09 Aug 2011 | UCSI University Pledges RM369, 785 towards The Sun-MAPCU Scholarship Fund Awards |
| 24 Jan 2011 | UCSI University Pledges RM369,785 towards the Sun-MAPCU Higher Education Scholarship Fund 2011 |
| 08 Jan 2011 | UCSI University Pledges RM731,740 towards The Star Education Fund |
| 13 Dec 2010 | A Christmas Gathering for UCSI University Scholars |